Skrrrt Skrrrt With The Skirt!!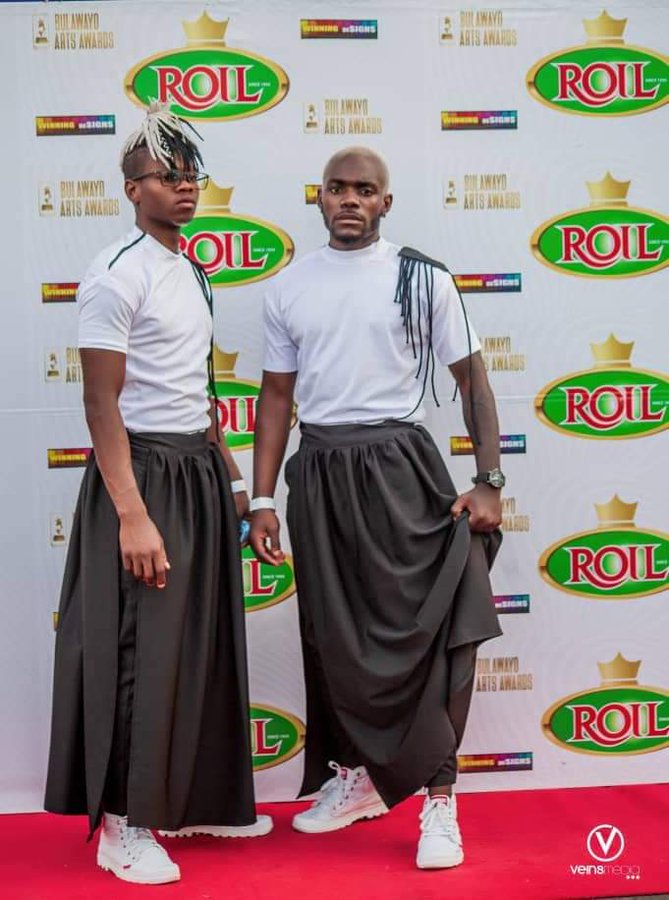 Blaq Aqua, Blogger
The Roil BAAs have always been a ball but when you have creatives left, right and center what can you expect? and this year's edition was no exemption.
As artists and business personnel dressed to the nines, from shiny suits to over-the-top culture wear, breath-taking off theme costumes, the #RoilBAA was truly blessed.
Fashion has no limit and this saying goes well for the dance duo, the Geek Twins, who graced the event in a skirt, altered shirt and, you guessed it, SNEAKERS!!!.
They completely stole and stopped the show before it has begun!!. The Geek Twinz were nominated for the Outstanding Dance Ensemble & Outstanding Male Dancer SlickTheGeek, which they effortlessly won.
This proves the living truth that, you can't compete with a guy wearing a skirt.
The GTz are not the first ones to appear at the #BAAs wearing skirts.
The rapper Yung Tyran co-signed with K.O, rocked the look in the 2nd edition of the ceremony but it didn't pop much because the photo was deleted after a day of being posted, he too won an award that year, yip the skirts rule.
Social media was abuzz with these guys from Raisedon Baya giving a positive comment about guys citing that it is a positive change in the right direction.
Now, this old ticker's heart is not easy to please, if Raise says it's dope then it is uhkay, cause he hardly sees any good in anything. Raisedon is a tough man to impress that much l can tell you, and these guys managed to get a nod from him, they are really good!!!.
Even chicks dig the non-binary lewk!!, next year our balls will be free!!, skirts are in.
Bringing a fashion sense that has people talking is part of the awards culture. What do you say with this one? Yes or No? pic.twitter.com/hqBYwVgn83

— Raisedon Baya (@RaisedonB) November 7, 2021
Now am easy to impress but to be honest with this lewk, they tried but didn't get it right!!.
Nailing the non-binary lewk is hard for guys and it is because of that, that we have not seen the style fly.
The way they combined a T-Shirt and a skirt is a no-no-no in the fashion world, T-Shirts and dresses don't match.
I give them points for breaking the rules though!!, hopefully, Anna Wintour will forgive them!!.
Yung Tyran on the other hand nailed it as he wore the black pleated mini skirt with a black V neck shirt, and a black biker jacket, finishing it off with black Nike sneakers.
If you want to wear this lewk with a T-Shirt, it works best if the T-Shirt is tight, you know body hug things.
The skirt must be short at least an inch above the knee, dark shade stockings are a must.
The shoes must be the same color as your skirt if it's a casual lewk but if it's a formal lewk the shoes must be a shade darker than anything you wearing and they must not be pointy, pointy shoes will make you lewk like a clown.
Avoid ruffled and baggy clothes to give it that elegancy and poise, respect is mandatory when rocking the skirt.
Man skirts are a luxury item, this can't be the everyday look for an average guy, l wonder how Indian and Arabian guys do it, poor souls. Imagine working at a workshop wearing a skirt *sigh*, the horror!!.